Enhancing the color shade and depth of linen fabrics dyed with Caesalpinia sappan L. wood extract using metallic salt mordants
Keywords:
Caesalpinia sappan L., Color fastness, Linen; Metallic salt mordant, Natural dyeing, Basalt fiber
Abstract
This study demonstrated natural dyeing of linen with a dye extracted from sappan wood (Caesalpinia sappan L.). Four metallic salt mordants, namely (NH4)2Fe(SO4)2, CuSO4, SnCl2, and AlK(SO4)2, referred to as Fe, Cu, Sn, and Al, respectively, were used to improve the dyeing properties. The influences of the pH, dye concentration, mordant type and concentration, and mordanting technique on the dyeing properties were investigated. Dyeing without mordants resulted in a reddish-brown fabric; however, different mordants produced a variety of color shades. In general, the mordant containing Fe yielded the highest color strength, generating a dark gray color very close to black. Crimson and magenta fabrics were obtained using Sn, and pink fabrics were obtained using Al. The samples with the Cu mordant showed a dark and dull purple color. The color strength due to post-mordanting was higher than those due to pre- and meta-mordanting. Dyeing and mordanting increased the ultraviolet protection factor (UPF) of the fabrics. Only the fabrics post-mordanted with Fe exhibited good ultraviolet protection (UPF 15). The concentrations of extractable heavy metals (Fe and Cu) were also determined.
Downloads
Download data is not yet available.
References
S. S. Affat, "Classifications, advantages, disadvantages, toxicity effects of natural and synthetic dyes: A review," University of Thi-Qar Journal of Science, vol. 8, pp.130-135, 2021.
M. M. Hasan, K. A. Nayem, and A. Azim, "Dyeing of cotton and silk fabric with purified natural curcumin dye," International Journal of Scientific Engineering and Technology, vol. 3, pp. 838-844, 2014.
K. Mekala, and R. Radha, "A review on sappan wood-a therapeutic dye yielding tree," Research Journal of Pharma-cognosy and Phytochemistry, vol. 7, p. 227, 2015.
K. Wongsooksin, S. Rattanaphani, M. Tangsathitkulchai, V. Rattanaphani, and J. B. Bremner, "Study of an Al(III) complex with the plant dye brazilein from Ceasalpinia sappan Linn," Suranaree Journal Scicene Technology, vol. 15, pp. 160-163, 2008.
A. P. Manian, R. Paul, and T, "Bechtold. Metal mordanting in dyeing with natural colourants," Coloration Technology, vol. 132, pp. 107-113, 2016.
P. Ohama, and N. Tumpat, "Textile dyeing with natural dye from sappan tree (Caesalpinia sappan Linn.) extract," International Journal of Materials and Textile Engineering, vol. 8, pp. 432-434, 2014.
M. K. Datta, M. E. Talukder, A. M. Faisal, A. Sarker, and H. Jiang, "The sustainable coloration of wool fabric using naturally extracted dyes from sappan heartwood," Journal of Natural Fibers, pp. 1-15, 2021.
S. H. Hwang, and J. D. Jang, "The effects of the pre-treatments with proteins on dyeing of silk fabric with Caesalpinia sappan," Textile Coloration and Finishing, vol. 28, pp. 208-218, 2016.
Y. Park, "Dyeing characteristics of fermented caesalpinia sappan L. Wood extract with chitosan-acetic acid solution and illite powder," Textile Coloration and Finishing, vol. 31, pp. 268-275, 2019.
A. K. Samanta, P. Agarwal, D. Singhee, and S. Datta, "Application of single and mixtures of red sandalwood and other natural dyes for dyeing of jute fabric: studies on colour parameters/ colour fastness and compatibility," The Journal of The Textile Institute, vol. 100, pp. 565-587, 2009.
Y. Park, K. Koo, S. Kim, and J. Choe, "Improving the colorfastness of poly (ethylene terephthalate) fabrics with the natural dye of Caesalpinia sappan L. Wood extract and the effect of chitosan and low‐temperature plasma," Journal of applied polymer science, vol. 109, pp. 160-166, 2008.
E. Hwang, Y. H. Lee, and H. D. Kim, "Dyeing and deodorizing properties of cotton, silk, and wool fabrics dyed with various natural colorants," Textile Coloration and Finishing, vol. 19, pp. 12-20, 2007.
J. Y. Lee, and J. D. Jang, "Improving the dyeability of cotton fabric with Caesalpinia sappan through pretreatment with gelatin," Fashion & Textile Research Journal, vol. 21, pp. 509-514, 2019.
N. Senthil, and B. Dhurai, "Knittability enhancement study of 100% linen yarn using softeners," Journal of Natural Fibers, vol. 19, pp. 4393-4402, 2021.
A. Farouk, S. E. Saeed, S. Sharaf, and M. A. El-Hady, "Photo-catalytic activity and antibacterial properties of linen fabric using reduced graphene oxide/silver nanocomposite," RSC advances, vol. 10, pp. 41600-41611, 2020.
B. Dornyi, E. Csiszár, and P. Somlai, "Improving quality of linen-cotton fabrics with liquid ammonia treatment," Journal of Natural Fibers, vol. 4, pp. 41-57, 2008.
L. Ngamwonglumlert, S. Devahastin, N. Chiewchan, and G. Raghavan, "Color and molecular structure alterations of brazilein extracted from Caesalpinia sappan L. under different pH and heating conditions," Scientific reports, vol. 10, pp. 1-10, 2020.
J. N. Chakraborty, "Introduction to dyeing of textiles," Fundamentals and Practices in Colouration of Textiles, pp. 1-10, 2010.
SR. Shukla, Pollution abatement and waste minimisation in textile dyeing. Environmental Aspects of Textile Dyeing, Elsevier., 2007.
M. G. Uddin, "Effects of different mordants on silk fabric dyed with onion outer skin extracts," Journal of Textiles, vol. 2014, pp. 1-8, 2014.
H. B. Jonassen, and J. R. Oliver, "Metallated dye complexes. IV. The stereochemistry of copper(II)-dye complexes," Journal of the American Chemical Society, vol. 80, pp. 2347-50, 1958.
S. K. Ajoy, "An evaluation of UV protection imparted by cotton fabrics dyed with natural colorants," BMC dermatology, vol. 4.1, pp. 1-8, 2004.
P. Pisitsak, J. Hutakamol, S. Jeenapak, P. Wanmanee, J. Nuammaiphum, and R. Thongcharoen, "Natural dyeing of cotton with Xylocarpus granatum bark extract: Dyeing, fastness, and ultraviolet protection properties," Fibers and Polymers, vol. 17, pp. 560-568, 2006.
R. Eid, A.T.T. Rawan, and M.T. Greenwood, "Iron mediated toxicity and programmed cell death: A review and a re-examination of existing paradigms," Biochimica et Biophysica Acta (BBA)-Molecular Cell Research, vol. 1864.2, pp. 399-430, 2017.
L. M. Gaetke, and C. K. Chow, "Copper toxicity, oxidative stress, and antioxidant nutrients," Toxicology, vol. 189, pp. 147-163, 2003.
OEKO-TEX® STANDARD 100 [https://www.oeko-tex.com/en/ our-standards/oeko-tex-standard-100].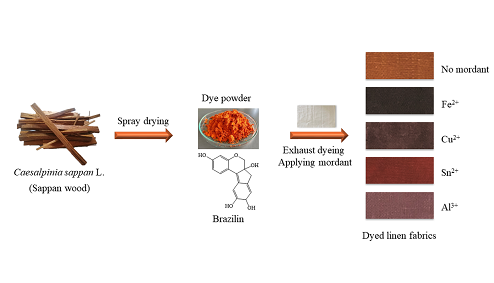 Downloads
How to Cite
[1]
T. HUTAKAMOL, P. PISITSAK, S. . THONGMEE, S. . SRIJANAND, and T. . SOMRUS, "Enhancing the color shade and depth of linen fabrics dyed with Caesalpinia sappan L. wood extract using metallic salt mordants", J Met Mater Miner, vol. 33, no. 3, p. 1657, Aug. 2023.
Section
Original Research Articles
License
Copyright (c) 2023 Journal of Metals, Materials and Minerals
This work is licensed under a Creative Commons Attribution-NonCommercial-NoDerivatives 4.0 International License.
Authors who publish in this journal agree to the following terms:
Authors retain copyright and grant the journal right of first publication with the work simultaneously licensed under a Creative Commons Attribution License that allows others to share the work with an acknowledgment of the work's authorship and initial publication in this journal.
Authors are able to enter into separate, additional contractual arrangements for the non-exclusive distribution of the journal's published version of the work (e.g., post it to an institutional repository or publish it in a book), with an acknowledgment of its initial publication in this journal.