Color shading, color fastness, antibacterial and ultraviolet protection properties of silk fabric colored by silver nanoparticles
Keywords:
Silver nanoparticles, In-situ synthesis, Antimicrobial, UV protection, Silk fabric
Abstract
This research studied the effects of different factors used in an in-situ method for forming colored silver nanoparticles (AgNP) on the properties of silk fabric; namely color shading, color strength, relative unlevelness index, color fastness to washing, antibacterial and UV shielding properties. In addition, improvement with an acrylic binder on color fastness to washing and antibacterial property after 20 cycles of washing of AgNP-treated silk fabric were also investigated. It was found that the optimum condition for treatment by the in-situ method was 2.0% owf of silver nitrate (AgNO3) solution, AgNO3 to trisodium citrate ratio at 1:3 (%w/w), exhaustion temperature at 90°C and treatment time at 90 or 120 min at pH 4.0. The higher concentration of those two factors, the higher the dark brown shade on the AgNP-treated silk fabrics. AgNP-treated silk fabric had a better UV protection than that of the pristine silk fabric. After 20 washes, the color fastness to washing of AgNP-treated silk fabric either with or without acrylic binder coating was rated low. Antibacterial activity against S. aureus of AgNP-treated silk fabric without coating acrylic binder decreased to 40% of bacterial reduction, but AgNP-treated silk fabric coated with acrylic binder still had 100% antibacterial property.
Downloads
Download data is not yet available.
References
A. K. M. A. Asif, and M. Z. Hasan, "Application of nano-technology in modern textiles: A review," International Journal of Current Engineering and Technology, vol. 8, pp. 227-231, 2018.
M. Rafique, I. Sadaf, M. S. Rafique, and M. B. Tahir, "A review on green synthesis of silver nanoparticles and their applications," Artificial Cells, Nanomedicine, and Biotechnology, vol. 45, pp. 1272-1291, 2017.
S. U. Islam, B. S. Butola, and F. Mohammad, "Silver nano-materials as future colorants and potential antimicrobial agents for natural and synthetic textile materials," RSC Advances, vol. 50, pp. 44232-44247, 2016.
A. S. Kupiec, D. Malina, Z. Wzorek, and M. Zimowska, "Influence of silver nitrate concentration on the properties of silver nanoparticles," Micro & Nano Letters, vol. 6 pp. 656-660, 2011.
F. M. Kelly, and J. H. Johnston, "Colored and functional silver nanoparticle wool fiber composition," ACS Applied Material and Interfaces, vol. 3, pp. 1083-1092, 2011.
H. B. Ahmed, H. E. Emam, H. M. Mashaly, and M. Rehan, "Nanosilver leverage on reactive dyeing of cellulose fibers: Color shading, color fastness and biocidal potentials," Carbohydrate Polymers, vol. 186, pp. 310-320, 2018.
Z. Zhang, X. Lv, Q. Chen, and J. An, "Complex coloration and antibacterial functionalization of silk fabrics based on noble metal nanoparticles," Journal of Engineered Fibers and Fabrics, vol. 14, pp. 1-8, 2019.
M. M. Hassan, and K. Koyama, "Multifunctional acrylic fibers prepared via in-situ formed silver nanoparticles: Physicochemical, UV radiation protection, and antistatic properties," Dyes and Pigments, vol. 159, pp. 517-526, 2018.
S. Mahmud, N. Pervez, H. H. Liu, M. A. Taher, and K. Mohiuddin, "Multifunctional organic cotton fabric based on silver nanoparticles green synthesized from sodium alginate, Textile Research Journal, vol. 90, pp. 1224-1236, 2020.
K. M. F. Hasan, H. Wang, S. Mahmud, M. A. Jahid, M. Islam, W. Jin, and C. Genyang, "Colorful and antibacterial nylon fabric via in-situ biosynthesis of chitosan mediated nanosilver," Journal of Materials Research and Technology, vol. 9, pp. 16135-16145, 2020.
M. Shahid, Y. Zhou, X.W. Cheng, M. S. Zar, G. Chen, and R. C. Tang, "Ferulic acid promoted in-situ generation of AgNPs @silk as functional colorants," Journal of Cleaner Production, vol. 176, pp. 736-744, 2018.
A. Y. L. Tang, C. H. Lee, Y. Wang, and C. W. Kan, "Dyeing properties of cotton with reactive dye in nonane nonaqueous reverse micelle system," ACS Omega, vol. 3, pp. 2812-2819, 2018.
A. Khan, A Nazir, A. Rehman, M. Naveed, M. Ashraf, K. Lqbal, A. Basit, and H. S. Maqsood, "A review of UV radiation protection on humans by textiles and clothin," International Journal of Clothing Science and Technology, vol. 32, pp. 869-890, 2020.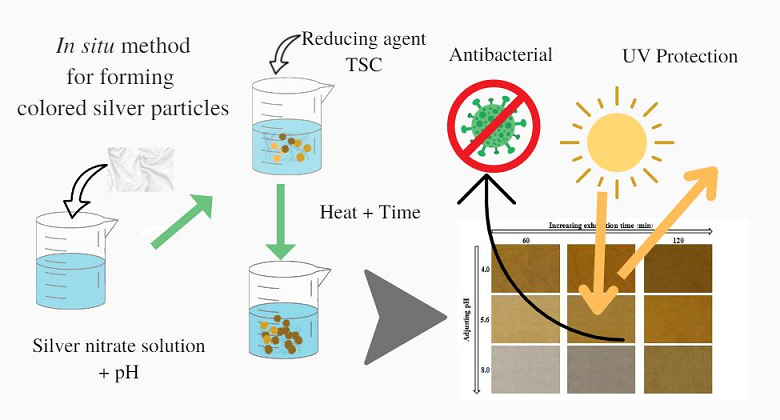 Downloads
How to Cite
[1]
S. KITTINAOVARAT, P. . BANJONG, and P. . SUJARIDWORAKUN, "Color shading, color fastness, antibacterial and ultraviolet protection properties of silk fabric colored by silver nanoparticles ", J Met Mater Miner, vol. 33, no. 3, p. 1683, Jul. 2023.
Section
Original Research Articles
License
Copyright (c) 2023 Journal of Metals, Materials and Minerals
This work is licensed under a Creative Commons Attribution-NonCommercial-NoDerivatives 4.0 International License.
Authors who publish in this journal agree to the following terms:
Authors retain copyright and grant the journal right of first publication with the work simultaneously licensed under a Creative Commons Attribution License that allows others to share the work with an acknowledgment of the work's authorship and initial publication in this journal.
Authors are able to enter into separate, additional contractual arrangements for the non-exclusive distribution of the journal's published version of the work (e.g., post it to an institutional repository or publish it in a book), with an acknowledgment of its initial publication in this journal.